More than 30% of our DSBA master's students transition into the program upon completion of the certificate. In an effort to streamline this process, the School of Data Science will waive the GRE/GMAT test requirement for any DSBA Graduate Certificate student who applies to the master's program with a GPA of 3.0 or higher.
Graduate Certificate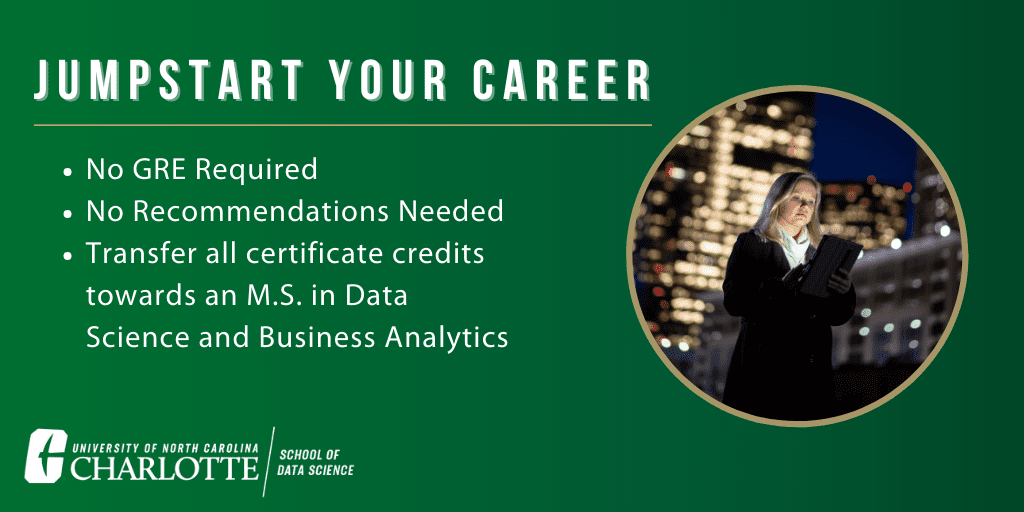 DSBA Graduate Certificate Requirements
The Graduate Certificate program comprises 15 graduate credit hours (5 courses) that build foundational and core competencies in Data Science and Business Analytics. Students enrolled in the Certificate follow the same curriculum as the master's program and can apply at any time to transition into the degree program. Up to 15 credit hours of coursework can be applied to the DSBA master's degree. The GRE/GMAT is not required to apply for the Graduate Certificate.
Plan of Study: 15 credit hours/5 courses
6 credit hours of required core courses

DSBA 6201 – Business Intelligence and Analytics
DSBA 6160 – Database Systems for Data Scientists
DSBA 5122 – Visual Analytics and Storytelling
DSBA 6276 – Strategic Business Analytics

3 credit hours of elective courses (Select 1 course)

DSBA 6122 – Decision Modeling and Analysis
DSBA 6156 – Applied Machine Learning
DSBA 6188 – Text Mining and Information Retrieval
DSBA 6211 – Advanced Business Analytics
DSBA 6284 – Digital Marketing Analytics
DSBA 6326 – Network Science
At a minimum, the Graduate Certificate must be completed over two semesters. DSBA Graduate Certificate students who apply to the master's program with a GPA of 3.0 or higher can request a GRE/GMAT waiver.
Transfer Credits
Up to six hours of approved coursework may be transferred to satisfy the Master's degree requirements. Only courses in which the student earned a grade of a B or higher will be accepted.
Graduate credits applied to a previous degree cannot be transferred.